University of Wisconsin – Madison SAE Baja Team @ Spring Crandon
Crandon, WI (July 5, 2010) – The University of Wisconsin – Madison SAE (Society of Automotive Engineers) Baja Team came to Crandon to not only to watch first hand how the competitors of the Traxxas TORC Series presented by AMSOIL tackle the rigors of short course off-road racing, but to learn about the latest technology that is being applied to the latest PRO and Sportsman racers. During the weekend the University's latest SAE Baja creation was on display all weekend at the Phil's Inc. team pit area.
The UW- Madison team had just competed in the 2010 Baja SAE World Challenge in Rochester, New York the weekend before Crandon's spring event. The seven student team from UW- Madison competed against ninety-nine teams other representing universities from the United States, Canada, India, France, South Korea, and Venezuela.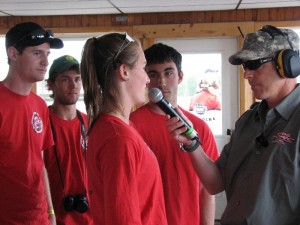 The SAE Baja World Challenge had the student teams compete in a variety of off-road disciplines in order to determine the team winner of the event. The various disciplines include design, cost, hill climb, acceleration, land maneuverability, water maneuverability, suspension and traction, endurance, teamwork and several others.
The UW – Madison team had a very successful competition as the team took first place in acceleration, second place in the hill climb, and seventh overall in the event.


Throughout the weekend at Crandon, team members Amanda Peterson, Andrew Pickard, Brian Dow, and Corey Haven had the opportunity to see up close PRO and Sportsman off-road competitors preparing for each day's events, spend time answering questions about their team, watch racing from the Ford Trucks Skyboxes, as well as getting interviewed by the track announcing team.
"This was an incredible experience," noted Amanda Peterson. "I've been around off-road racing thanks to my day, but to be able to take some of my teammates here and get them up close with all the aspects of off-road racing was really cool. Hopefully we can take use some of the information we gathered and apply it to our next SAE Baja racer. The process begins all over again this fall with the design of our latest buggy."
The team thanks everyone that made the weekend possible. Mike Reusche from Phil's Inc. who arranged the weekend , Jeremy Meyer of AMSOIL who arranged the track interview, Javier Sanchez from Crandon Off-Road for offering the team Skybox passes, as well as everyone that came by to ask about the team.
"Getting the UW team here is a great way to promote our sport," comment Mike Reusche. "Here are probably some of the smartest young adults around that want to be involved in off-road racing. This was a perfect way to put the connection all together. Hopefully some of the drivers and team owners took notice because you might see some these students either lined up next to you at the starting grid or working with a top PRO team in the very near future. I was a student member thirty years ago at Western Michigan University and the Frana brothers, Jeff (Red Bull Racing) and John (Super Buggy owner/driver) have both spent time in the SAE Baja program before graduating from their respective universities as well."
The University of Wisconsin Baja Team would like to thank their sponsors including:
College of Engineering, University of Wisconsin – Madison
Zeman Tool and Manufacturing
Polaris
Engineered Metal Products
Lincoln Electric
Phil's Inc.
Therm-Tech of Waukesha
Briggs & Stratton
Signs by Tomorrow
J & D Tube Benders
Hamlin
Edgerton Gear
Aurora Bearing Co.
CV Pros
DS Solidworks
Milwaukee Tool
Society of Automotive Engineers – International
Snap-On
Kohler Engines
Dayco
For more information and sponsorship opportunities about the University of Wisconsin-Madison SAE Baja Team please visit: http://www.engr.wisc.edu/studentorgs/baja/
http://www.youtube.com/user/UWBaja